A group of us went out on Mother's Day to enjoy a bit of wheeling as well as to check out some of the Arches hidden in the Metal Masher Area. Jim, Rick, and Ber had all been there before and agreed to show us Rubble, Jack's, and Periscope Arch. This first photo shows an arch that's pretty much in the center of the photo (2 large darker boulders are partially blocking it). I believe Jim called it Rubble Arch and it's right across the trail from the Gooney Bird rock on the Gemini Bridges Road.
Sometimes spotting arches can be a difficult task. Look carefully everyone! Of course, once we knew that we were going out to Metal Masher, a few in the group wanted to see how Widow Maker was doing. Rick had metioned that the winch anchor at the top of the obstacle could be pulled out from the ground and we wanted to see if it could be repaired.
Jim was the first one up to the Widow Maker and he drove right up as you can see in the video below.
Rick decided to take a pull in Rock Dawg as did I in Moab TJ and Ber. Larry successfully made it up too but I didn't capture a video. Sorry Larry, I thought I had it. Maybe it's on Lou's camera?
We had a new participant with the group today. Kevin, from Texas. He elected to take a pull up the Widow Maker as well.
I get asked about break-over angles with the 4 door JK's and in Moab, it's quite possible to get hung up, no matter your wheelbase. Stuck on Widow Maker? Don't leave me RALPHY! Okay, so Larry dragged him up and all was well……
Jeff gave quite a show climbing Widow Maker as well.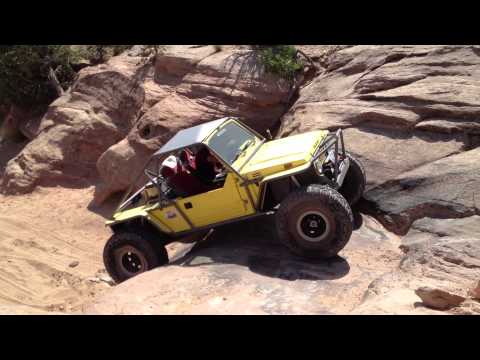 After the fun on the obstacle, we drove out to find the arches. The first one we came to was our lunch stop and is called Jack's arch. You can barely see Jeff inside this nice-sized arch. After lunch, we drove over to the next canyon to check out Periscope Arch.
This arch required a short hike but it was nice and cool in the shade.
Another very interesting formation although we were hit by flying shrapnel as Jeff threw sandstone rocks into it to see if there was any water inside. I think the answer was no. OUCH!
It's also time for the cactus to flower and the first flowers are opening up to the hot desert sun. I found one of yellow…..
And one of pink….. All flowers for Mother's Day and I hope everyone had a wonderful day, just like we did.
Thanks all and see ya on the trail.
Melissa