A group of Samurai's and yes, one Big Fat Jeep went out to tour some of the new trails that were built over the winter in AREA BFE. As many of you may know, Redroxx has been down over the winter awaiting her brand new Atlas transfer case. After I blew up the Tera Low kit for the second time, Tera-Flex told me I should invest in an Atlas so I did. It was just installed and boy am I ready to try it out.
The first trail we went out on is called DropKick and was built by Jim and Jeff.
Even Susan came out today, a sure sign that spring is on its way to Moab.
The signs are great. Jim made this in his garage and you know that you're on the S&M loop (standing for Stevens & Molter you dirty minds) and below you can see the DK (DropKick) signage.
If you can see the biohazard symbol painted on this rock, you'll see another buggy trail under construction here in BFE. This trail is called Smashing Pumpkins.
You work your way up this slippery slope…..
Until you reach this daunting obstacle with nasty consequences. You'd be lucky to just smash your pumpkins on this one…..anyway the walking tour is over and we return to our trucks to continue up Drop Kick.
New trails are fun, you watch the evolution right before your eyes. How dug out is it going to be, how much rock exposure? This area doesn't look like much but it defeated several of us.
This is like being caught between a rock and a hard place.
But, finally up and over….
The paint on the rock looks familiar. Susan, I think your husband has been using your Sami colors for marking paint.
Boy, I had heard there was a narrow spot on this trail and came around to see John was past it but the rock ledge had caught him up.
Eventually requiring a bit of a tow.
Here you can watch Jim go through it and see the narrowness and consequences for not paying attention.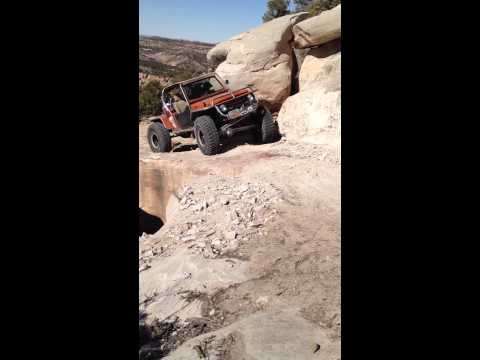 Rick makes it look plenty wide.
And has no problems with the ledge either.
Here's another nice climb on Drop Kick.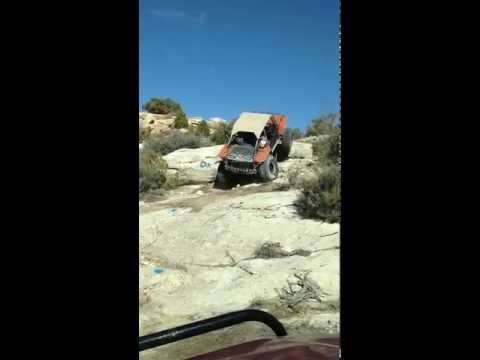 This area is coming back up from the S&M loop towards Black Out. I guess Rick did a flop here while they were building the trail and from the looks of this photo, he's trying for a repeat.
Here we are at the Black Out trail. This is a small connector trail between S&M loop and a portion of Drop Kick. It's only about 100 yards long but has a couple of great obstacles on it.
Here's Jeff attempting the first obstacle.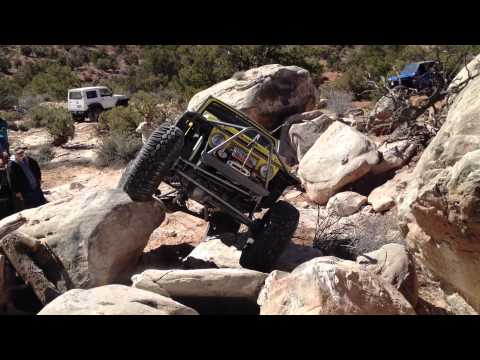 And, here's Jeff making it. Once you get the right line, it's fairly easy.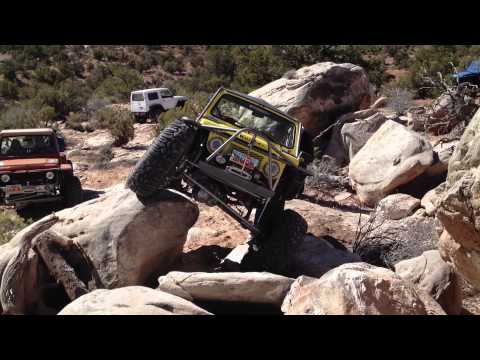 This is the upper portion of Black Out and you can see live how we're still building the trail.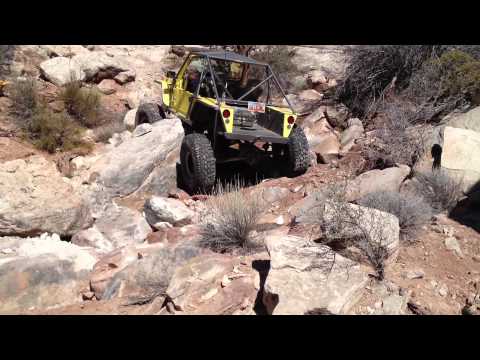 Here's Jim making the upper portion of Black Out look easy.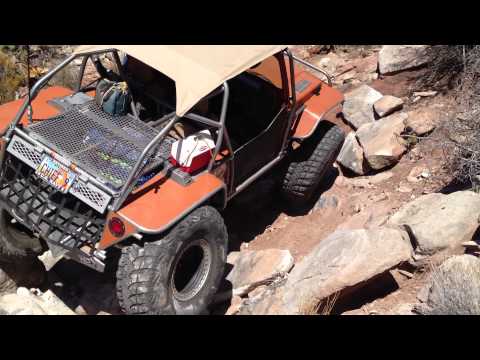 Here's a live interview with Rick while on Black Out, I think he had just come to……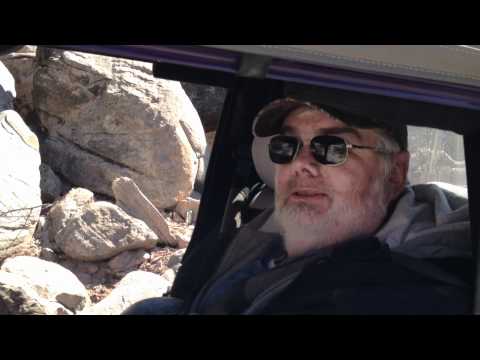 When we finished with Black Out, we came down Lock Jaw and called it a day. It's still a bit brisk in Moab but it's turning spring time, there were lots of bikes and Jeeps in town and we'll soon be ready for EJS.
Thanks all and see ya on the trail!
Melissa