It's the day after Christmas and the group decided to make a run to Area BFE and see what trouble we could find. The Gatekeeper on Upper Helldorado was quite filled in with sand, making the approach from the bottom do-able. Jeff was the only one who could make it though.
Lots of fun to be had on the Gatekeeper. Here's Chief9!
And Gary Lee with a very nice poser shot.
Next, we worked our way up Minor Threat to one of our very favorite obstacles, Easy Squeezy.
Jeff in the new and improved Clean Squirrel tests his new rear Currie anti-rock sway bar. It sure seemed to help him get right through this obstacle.
Jim was doing some testing of his own, not sure of exactly what. Everything looks clean from under here  Jim. This was an awesome run of Easy Squeezy and Jim brought Chief 9 through without a scratch.
Here's Gary Lee on an optional approach on Green Day.
Jim makes the Green Day waterfall look like a walk in the park.
Larry makes his first attempt on the Green Day waterfall. Looks good so far Larry.
Ummmm…..you'd better watch that driver's rear. No flopping allowed!
Okay, that looks better. You made it.
I think Larry was testing his articulation. Looks like every tire is going a different direction. This little area of the wash just past the waterfall can really give you a tire lift.
As Gary Lee demonstrates.
Uh, oh. What could Jim possibly be thinking?
A. Which direction should we head now?
B. Don't anyone break down back here. I'm ready for church.
C. What the heck are you doing Jeff?
D. I can't believe you guys are going to try Suicide Hill……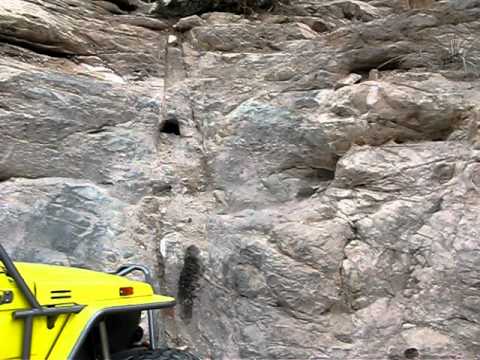 Here's Jeff's attempt: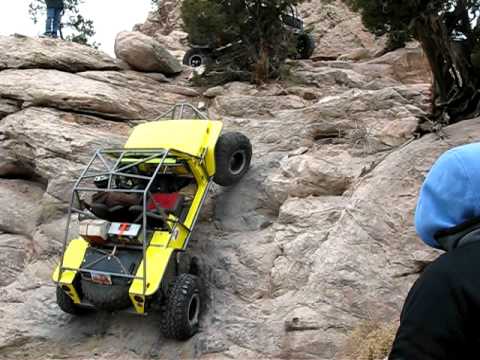 I decided I would just put my tires on it to see what it felt like. And, to my surprise, Redroxx began crawling right up the obstacle. I had to back down, put a helmet and my 4 point on and try it again. Right where you see the tree, you turn to the right. All was well until I hit that ledge and then ALMOST had a really nasty flip. Luckily the brakes held and Jeff towed me up. THAT was scary.
Then Gary Lee really gave it a good try. Here's what the obstacle looks like from Jim's perspective on the rock.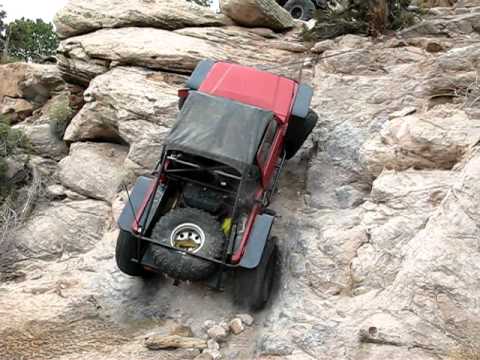 The strap is on there just in case a quick tow was needed. Gary Lee eventually had it taken off and tried again.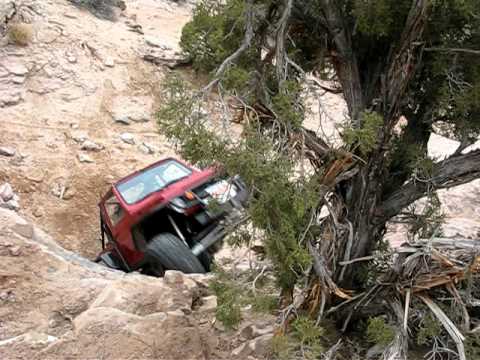 You can see how steep and difficult this one it. Well, it's a first attempt but I'm sure we'll be back. It was a great day on the trail but it started to rain so we called it quits.
Melissa