Everyone give a warm welcome to the newest member of the Samurai family. After months of hard work, sweat, and investment, Jim debuts Chief 9. This truck started out as a freebie that Gene brought over from Colorado. The axle housings were from the Blazer we recovered off of Kane Creek trail well over a year ago. From that start, Jeff & Jim built a beauty of a rig with too many fancies to list…..Atlas t-case, hybrid shocks with coils, a V6 engine, heated seat (for the driver anyway), beadlocks, MadDog tires, etc., etc. I think Chief 9 comes in at 106″ long and 84″ or so wide. A very stable size for Moab challenges.
So, the first trail is Metal Masher. This is a great first trail to try because the obstacles are optional and if things aren't going so smoothly, well, easy enough to bypass or turn back. 8 rigs were out in total and this lovely hot day in July.
Okay, it's been a while. What could Jim POSSIBLY be thinking on such a day!
a. I hope Chief 9 can climb Widowmaker! It'd be a shame to roll her on the first day!
b. Is my seat heater stuck in the "ON" position or is it really that hot in Moab?
c. Oh NO! My new truck is all dirty now.
d. With this V6 engine, I can definitely make it to church on time! Eat my rooster tails!
Rock Chucker was fun today and very easy, everyone in the group made it without much if any difficulty. Here's Susan going up.
And a special guest appearance by Larry!
Here's a couple shots of the Chief!
Looks sweet!
Here comes Rick.
Then it was through Mirror Gulch and up the switch back to Misty's thumb. More shots of the new rig. By the way, it's not orange, it's cinnamon.
Up to the overlook. We looked over but it was still too early for lunch so it was off to Widowmaker.
Up the dugway to Widowmaker. The road construction is holding together nicely, making the approach nice and easy.
Jeff was the first one up. We were expecting a fairly easy time today but surprise! Widowmaker was not in a good mood at all. No one flipped or flopped but not everyone made it today.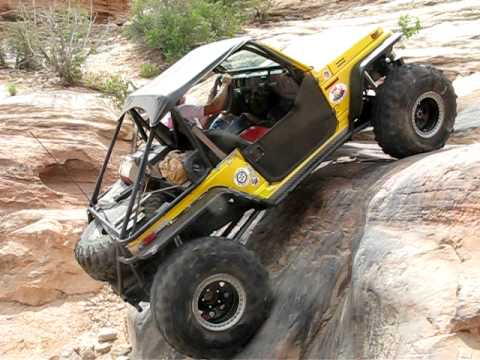 Larry turned out to be a bit too long and was getting double-whammied at the top. Jeff climbed into the bed to get Larry's strap when the truck slid backwards. Jeff made a hasty escape but all was okay.
Davon was next and really unloaded. He elected to take a strap too.
Then came Gary Lee who always seems to do well on this obstacle.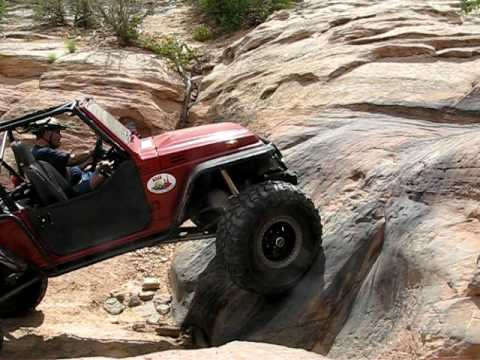 Next came Jim in Chief 9. Break in those new tires Jim!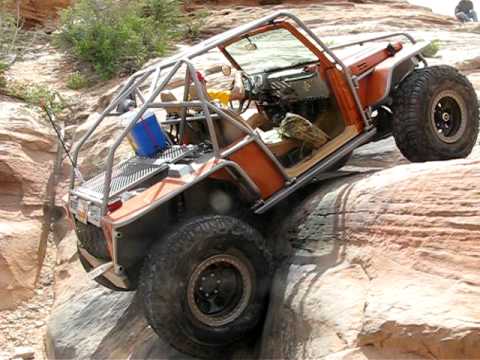 I was next but without the video. I did make it up. Susan and Rick both elected for a pull too. We were all at the top of Widowmaker just in time for lunch and just in time for the thermometer to hit 100 degrees. After lunch, we hit the road to get back into Moab to cool down.
A great trail day and a nice break-in (instead of a break-down) for Chief 9.
Melissa